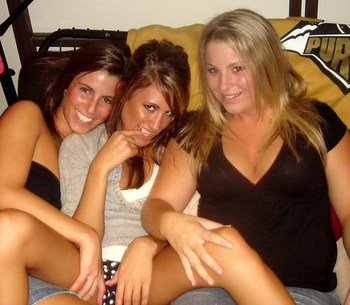 "I like the spread on Purdue"

Word,
I wonder if these chicks are on Facebook? My guess is yes; possibly myspace.
Alright. Here is the deal. I am rolling today with two Big Ten Picks in the great state of Indiana!
Notre Dame at Purdue (+6.5)
The Boilermakers have had a rough start this year with two losses in games they should have won. The first was in Oregon as a 13 point dog, the second last week as a 11 point favorite against Northern Illinois. The scuttlebut around central indiana was "how did the Boilers lose to Northern Illinois?". What many of these Hoosiers fail to recognize is that NIU has a consistently competitive football program. The expectations for Purdue's season are now diminished and the fans are not upbeat. Today is an opportunity to a.)redeem themselves at home and b.)remind everyone that Charlie Weiss is a big fat ass. I will be at Ross Aide cheering the Boilermakers and collecting my rent money.
Robnosticator's Pick: Purdue +6.5 ( 1 Pierogi)
Indiana (+20) at Michigan
The Hoosiers are 3-0. That is simply unheard of! Granted the won against Bloomington High School in OT, beat Wabash college by a field goal in the final seconds, and traveled to Middle North West Kentucky University for a road win but they are 3-0 and they are getting no respect. Why? Because they suck. But do they suck by 20 points? Michigan is over-rated and has been for years. This could be a cinderrella story.........
Robnosticator's Pick: Hoosiers +20 (2 Pierogis)
Back tommorow with my NFL action.
Peace,
-Robnosticator